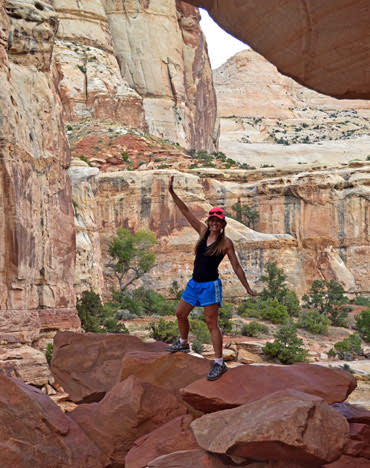 Molly grew up in small town Vermont.  Ever since she could remember she  always loved being outside in nature.  She was drawn to the Colorado Rocky Mountains right after college.  The bright sunny blue skies and majestic mountain peaks attracted her to move out west.  Molly enjoys all outdoor activities including skiing, hiking, and trail running.

Molly has had a variety of careers including many years in the hospitality, fitness and travel industries.  She worked  as a personal trainer, fitness instructor, and yoga instructor.  After her career in the fitness industry she decided to try the corporate world.  She worked for an insurance company as a health educator and was quite successful.  There were many opportunities for Molly to climb the corporate ladder.  She felt misplaced kind of like a square peg trying to fit into a round hole.  After a yoga retreat to Costa Rica Molly decided to pursue her passion for travel.    Molly went to the International Guide Academy where she achieved the Certified International Tour Manager certification.  She spent some time as a Cruise Director on with a small ship cruise company and realized she missed being outside!  Molly has always loved the beautiful southwest and found an incredible opportunity with Southwest Adventure Tours as a Tour Guide.

Molly loves showing our guests the beautifully diverse national parks.  Her goal is to make our guests adventure a memorable and fun experience. She also hopes that our guests will leave us with a new found sense of adventure feeling inspired.  Molly works really hard always with a big smile to make sure everyone in the group is having fun.  She looks forward to sharing her sense of adventure and love of the Southwest's nature, history and beauty with our guests.