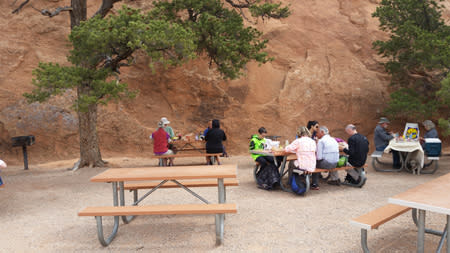 I just returned home a couple of days ago, after experiencing Utah's Mighty Five, courtesy of Southwest Adventure Tours (SWAT). I have taken this trip with SWAT previously, when it was a bit warmer, so I was familiar with the main attraction. When our guide, Dennis Bailey, realized this, he made a point of adding a multitude of small, side trips, to ensure I had new experiences. This trip was everything promised and more.
The national parks were phenomenal, the weather was great, and we had a nice traveling group. Dennis really did an exceptional job in leading this tour, providing us a wealth of information, but conveying it in a manner that clearly his love and passion for the Southwest.
This was my third trip with Southwest Adventure Tours, and as usual, I was impressed with the overall planning and execution of the trip. The route was logical, the hotels were very good and choice of restaurants was exceptional. Transportation has been upgraded to larger, well appointed vans, which allowed us to travel in spacious comfort.
One might initially balk at the overall price for a Southwest Adventure Tour but when you consider the price includes: transportation, hotels, most meals, admission to all of the National Parks and an invaluable guide, you quickly realize this is truly a worthwhile value. If you want an exciting and active vacation, while exploring our nation's national parks, consider booking a trip with Southwest Adventure Tours!