Pricing (Occupancy)
$2,980.00 Per Person Double Occupancy
$3,545.00 Per person Single Occupancy
$2,840.00 Per person Triple Occupancy
$2,750.00 Per person Quad Occupancy
2020 Departure Dates:
2021 Departure Dates:
Weekly Departures every Saturday June 26 through October 2
| | |
| --- | --- |
| June 26 | July 3 |
| July 10 | July 17 |
| July 24 | July 31 |
| August 7 | August 14 |
| August 21 | August 28 |
| September 4 | September 11 |
| September 18 | September 25 |
| October 2 |   |
Trip Documents

Overview
From 14000 ft mountain peaks to beautiful hidden valleys and from Historic Trains to Ancestral Pueblo Ruins Colorado is full of opportunities to explore and engage your sense of adventure.  Starting in the Metropolitan areas of Denver and Colorado Springs and traveling through the Rocky Mountains to the Western Range, you will explore this area through a myriad of activities.  

Enjoy a visit to the Royal Gorge and other attractions near Colorado Springs. Travel back to your youth with the opportunity to slide down the Great Sand Dunes. Enjoy the experience of Historic Rail Travel with the Cumbres & Toltec and Durango Silverton Railroads. Explore the ruins of the vast Ancestral Puebloan civilization that inhabited Mesa Verde for thousands of years. Drive the Million Dollar Highway and enjoy the beauty of the Colorado National Monument in the last afternoon. Enjoy Glenwood Springs with its Adventure Park, Fairy Cave, and an opportunity to enjoy Whitewater Rafting down the Colorado River.  In the evening enjoy soaking in one of the many hot springs. Finish the tour with the grand finale visit to Rocky Mountain National Park.  Explore a drive over 12,000 ft and enjoy views above the treeline of the many peaks and valleys. 
Highlights
Rocky Mountain National Park
Great Sand Dunes National Park
Mesa Verde National Park
Colorado National Monument
Million Dollar Highway
Royal Gorge Railroad along the Arkansas River Gorge
Cumbres & Toltec Historic Railroad Ride over the Continental Divide
Durango Silverton Railroad Ride along the Animas River Gorge
Glenwood Springs Adventure Park, Rafting (when water levels are adequate), and Gondola Ride
Royal Gorge Park and Bridge
Grand Lake
Estes Park
Photographic Opportunities
Wildlife Watching Opportunities
Itinerary:
Day 1 - Arrive in Denver - Colorado Springs (Sat)
Arrive in Denver by 1:00 pm. (*Please arrive at the Denver Airport before 1:00 pm.) Meet your tour director and begin your Colorado experiences as you travel south to Colorado Springs. See red sandstone rock formations along the route. Check into your hotel and join the group for a welcome dinner at a local restaurant.
Drury Inn & Suites, Colorado Springs, CO
Meals: D
Day 2– Royal Gorge – Great Sand Dunes - Alamosa (Sun)
Today will be a day of rails and parks.  Start your morning off with the Royal Gorge Route Railroad for a vintage train ride along the beautiful Arkansas River deep within Royal Gorge.  After a great ride, visit Royal Gorge Park & Bridge, where the world's highest suspension bridge towers 1,053 feet above the Arkansas River. Here you will have time to walk out on the bridge, have lunch on your own and explore other sights in the park.  In the afternoon, travel to Great Sand Dunes National Park for sightseeing of the tallest dunes in North America which are the centerpiece in a diverse landscape of grasslands, wetlands, conifer and aspen forests, alpine lakes, and tundra.  After a wonderful day in Colorado, arrive in Alamosa for a one night stay.  Dinner included at a local restaurant.
Comfort Inn, Alamosa, CO
Meals: B, D
Day 3 – Cumbres and Toltec Scenic Railway (Mon)
The Cumbres and Toltec Scenic Railroad, considered the finest remaining example of a once vast network of narrow gauge rail lines in Colorado, is your destination this morning.  This well preserved  railroad has been called by author Lucius Beebe, "the most awesomely spectacular example of mountain railroading in North America." Board the train in Antonito, then climb from the valley with ever changing landscapes as you make your way into the mountain peaks.  Arrive at Osier where you will disembark the train and enjoy lunch.  Then return to a modern form of transport as you drive to the old west mining town of Durango for a two night stay.  Evening free on own.
Holiday Inn, Durango, CO
Meals: B
Day 4 – Mesa Verde (Tue)
After breakfast, travel to nearby Mesa Verde National Park for a day of exploration.  Visit cliff dwellings built by the Anasazi culture that once thrived in the Four Corners region but suddenly disappeared leaving a mystery of what happened to this ancient culture.  Their dwellings and artifacts have been well preserved in the desert climate, all for the people of our day to try and interpret.  This is the nation's largest archeological preserve with 4,000 sights including 600 cliff dwellings.  Start with the Visitors Center which contains a large collection of ancient artifacts.  Then a local expert will guide you through the most famous ruin sites including a stop for lunch on your own. After a wonderful tour of Mesa Verde, return to Durango with the rest of the day free to explore this fun western town on your own.
Holiday Inn, Durango, CO
Meals: B, D

Day 5 – Durango & Silverton Railroad (Wed)
This morning ride the Durango Silverton Narrow Gauge Railroad, one of the last such railroads operating in the United States.  The high peaks of the Rockies, alpine meadows and the beautiful Animas River make of the wonderful scenery you will experience along the way.  After a wonderful ride, arrive in Silverton with free time to explore the many shops and have lunch on your own. This afternoon, take a scenic drive on the Million Dollar Highway traveling north over the peak and then winding your way down the mountainside to Ouray, another historic town.  Continue north to Grand Junction for sightseeing of Colorado National Monument. Over the centuries, the elements have created beautiful steep canyons, monolithic spires and gorges all carved from the colorful sandstone. Overnight in Grand Junction and enjoy dinner at a local restaurant.
Hampton Inn Downtown, Grand Junction, CO
Meals: B, D
Day 6 – Glenwood Springs (Thu)
After breakfast, travel east to Glenwood Springs and arrive Glenwood Caverns Adventure Park for a scenic gondola ride up the mountain with incredible views of the Roaring Fork Valley, Mt. Sopris and Colorado River.  Enjoy a guided tour of historic Fairy Cave followed by an included lunch.  Then descend back down the mountain and join the group for some thrilling whitewater rafting (when water levels are adequate)!  You will be rafting through spectacular Glenwood Canyon, a beautiful, pristine stretch of water with unbelievable Rocky Mountain scenery and a perfect mix of calm water and whitewater. This trip includes Class II-IV whitewater and the Shoshone Class III-IV rapids offer the whitewater enthusiast a two-mile stretch of exciting but not intimidating rapids. A guide favorite with interesting geology, gorgeous scenery, and some fun whitewater! The evening is free to visit the town's namesake, Glenwood Hot Springs for a soak in the mineral springs, as well as to explore and have dinner on your own.
Hampton Inn, Glenwood Springs, CO 
Meals: B, L
Day 7 – Rocky Mountain – Westminster (Fri)
Depart Glenwood Springs for a scenic drive through the heart of the Colorado Rockies passing through the towns of Vail and Silverthorne on your way to Grand Lake Lodge for lunch on your own with an amazing view.  Then enter Rocky Mountain National Park for sightseeing along the famed Trail Ridge Road which crests at over 12,000 feet including many overlooks to experience the subalpine and alpine worlds.  In will be an afternoon of mountain roads, wildlife and breathtaking views.  A true Colorado Rocky Mountain High!  Hiking at the guide's discretion.  In the late afternoon, return to the valleys of the Front Range with some free time to explore Estes Park.  Then pass through the fun town of Boulder on your way to Westminster for overnight. This evening join the group for a farewell dinner at a local restaurant as you share your experiences from the past week in Colorado.
Drury Inn & Suites, Westminster, CO
Meals: B, D
Day 8 – Journey Home (Sat)
Say farewell to Colorado as you transfer to the Denver Airport for your flight home.
Inclusions:
Knowledgeable Tour Guide
Comfortable Transportation
7 nights lodging
7 Breakfasts
2 Lunches
4 Dinners
Entrance fees to attractions, National Parks and Monument as mentioned in itinerary
Royal Gorge Route Railroad
Cumbres & Toltec Scenic Railroad
Durango & Silverton Narrow Gauge Railroad
Royal Gorge Park & Bridge
Estes Park
Tips for included meals
Applicable Taxes and Fees
Not Included
Airfare
Meals (other than mentioned in the itinerary)
Optional activities
Items of a personal nature (i.e., room service, telephone, liquor, etc.)
Customary gratuities for the tour director, driver, local guides and outfitters
Trip Documents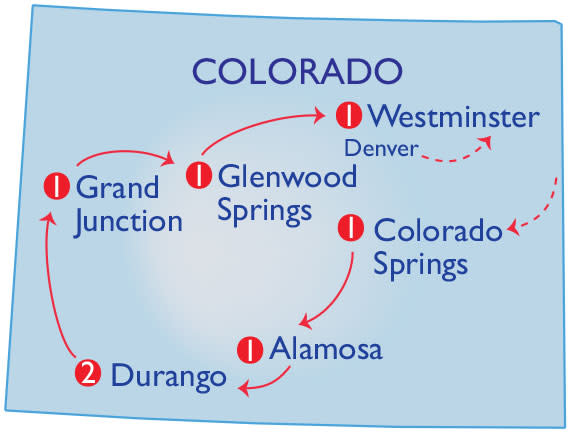 Glenwood Caverns Adventure Park