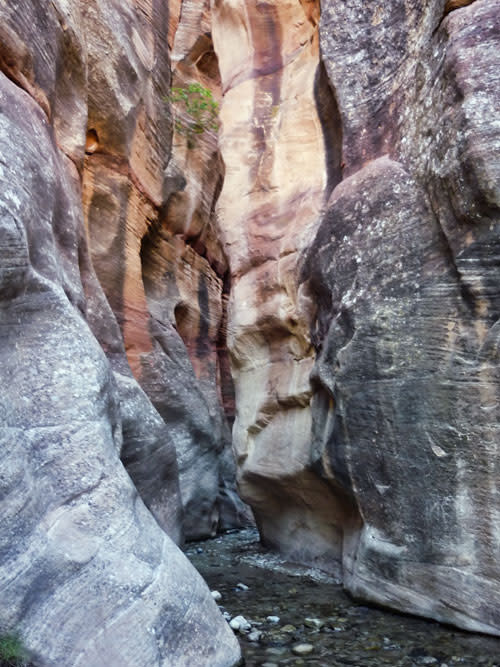 Tour Highlights:
Knowledgeable Guide
Transportation To and From Your Hotel To The Trailhead
Picnic Lunch (24-hour Notice Required)
Walking Staffs
2 16oz Bottles of Water (We Recommend You Bring More)
Pricing:
(1 person to 4 people): $400.00
Cost per extra person over 4: $35.00
Overview:
Kanarra Creek offers a fun slot canyon hike in a very photogenic canyon just outside the Kolob Canyons section of Zion National Park. Access is easy, the hike is relatively short and the route can be customized to keep it easy or make it a little challenging.

The biggest challenge comes from two waterfalls that block upstream travel through the narrow slot. Water flows here year-round and hikers must wade the stream in many places. The hike to the base of the first waterfall is short and easy. If you want a moderate challenge then climb the falls and continue up the canyon. Usually there are trees with steps and ropes available to aid individuals trying to climb past both waterfalls.

Total round-trip mileage is 3.5 miles if hiking just past the second waterfall. An individual can continue up the canyon for as long as they would like or until they reach the source of the spring. The canyon continually provides you with a great variety of slots, interesting geological formations, and unique plant specimens. It is a great half-day hike. 2 to 4 hours, depending on physical ability and the length of the hike desired.