Article by Vicky Stafford, Southwest Adventure Tours tour director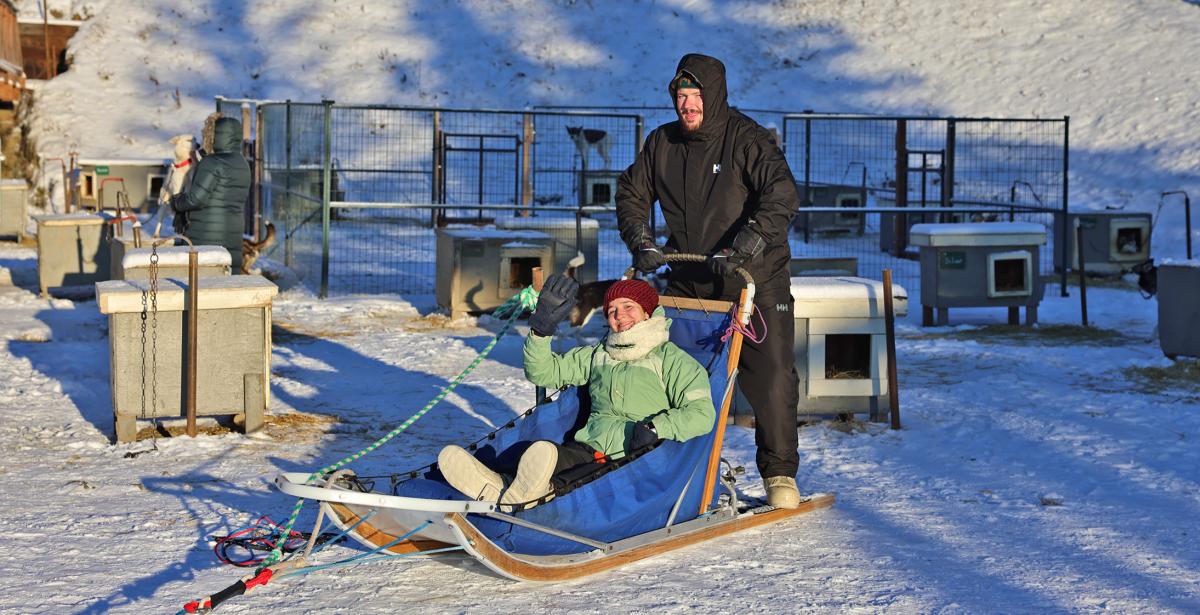 Alaska has always been on my travel list. I've always heard of the incredible beauty and the many unique and exciting experiences the state has to offer. Friends who have visited have had nothing but rave reviews about their Alaskan experience. So, after a year and a half of being cooped up inside, I booked my flight!
My trip began, like most of my trips, with some frantic, good ol' last-minute packing. There's no greater motivation to finally pack your things than knowing that your flight leaves in less than 12 hours. (Please note: I do not advise this. Packing ahead of time is a far superior plan, but at this point, I've come to accept that last-minute is how I operate.) So, with limited time as my motivation, I began my least favorite, but necessary activity. Two bags and a personal item later, I was ready! 
Leading up to my trip, I briefly looked up suggestions of what to bring. Winter coat, gloves, stocking cap…got it. I mean, I grew up in the Midwest. I had survived many a cold winter. How cold could it be? Answer: COLD. 
Granted, the fact that I've lived in Los Angeles the past six years might have contributed to why I found the cold especially harsh, but even still, if you are visiting Alaska during winter months, prepare for some extremely cold temps, especially at night. (Nighttime temperatures during the winter months can reach as low as -30 degrees Fahrenheit! So, yeah, bundle up!)  
The next day, my 7:00 a.m. flight from Burbank took off right on time. After a brief layover in Seattle, I was on my way to the quaint city of Fairbanks, Alaska. Upon deboarding the plane, the small but very charming Fairbanks Airport was a nice welcome to the city.
A short cab ride and a rental car later, I finally checked into my hotel. In total, I'd spend six days exploring all around the "Land of the Midnight Sun" as a part of a tour I booked through Southwest Adventure Tours. 
Here are some of the highlights: 
The Museums
My first full day in Alaska began with exploring a couple of great museums. First on the docket was the Morris Thompson Cultural & Visitors Center. The MTCVC was just a short walk from our hotel, so off into the brisk Alaskan air we went. Along the way, we stopped for a photo op at the Antler Arch and admired some of the various street art.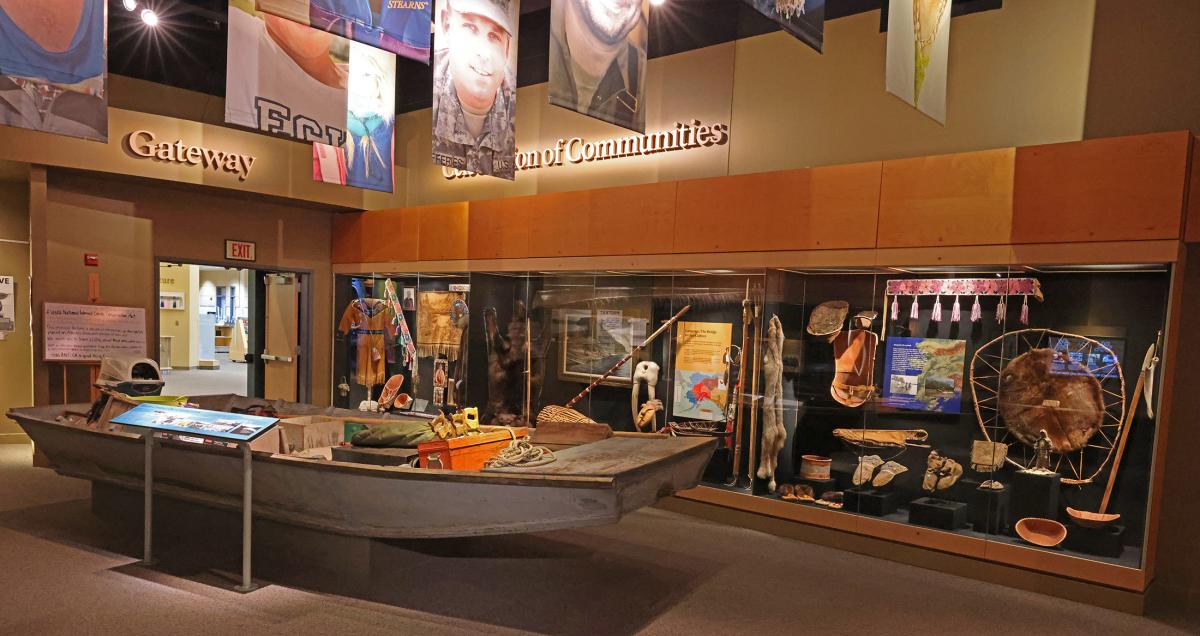 The MTCVC provided a great introduction and overview of Alaskan history! The staff was friendly, helpful, and so willing to answer any questions I had about Alaska.
From there, it was off to the Museum of the North. Now, I've been to a lot of museums throughout my travels, but this one was especially impressive. It has a wonderful assortment of exhibits that cover a wide array of Alaska's history. The exhibit detailing the experience of Japanese Americans living in Alaska during WWII was especially interesting—and heartbreaking. I also enjoyed the displays dedicated to the very strong and resilient women who helped settle the Alaskan frontier. My takeaway: tenacity and toughness must be the secret to a long life because most of these women lived well into their 90s! 
And as a bonus for any of you fans of the book/film Into the Wild, the actual bus that Chris McCandless lived in is now located just a short drive from this museum. The bus is currently located in the engineering building on the University of Alaska Fairbanks campus, where it is being readied for its eventual permanent exhibit.
Dog Sledding 
Wow, did I love this experience! So many dogs to pet and so little time. The thrill of traveling through the woods with a pack of ten dogs leading the way is such a unique and thrilling adventure. Leslie, the owner of Paws for Adventure, couldn't have been nicer. Her passion and love for her dogs is contagious, and I learned so much. (Did you know Alaskan Huskies can run up to 100 miles a day?!) Animals + nature = my happy place. So, if you're like me, dog pulling is a must-do experience.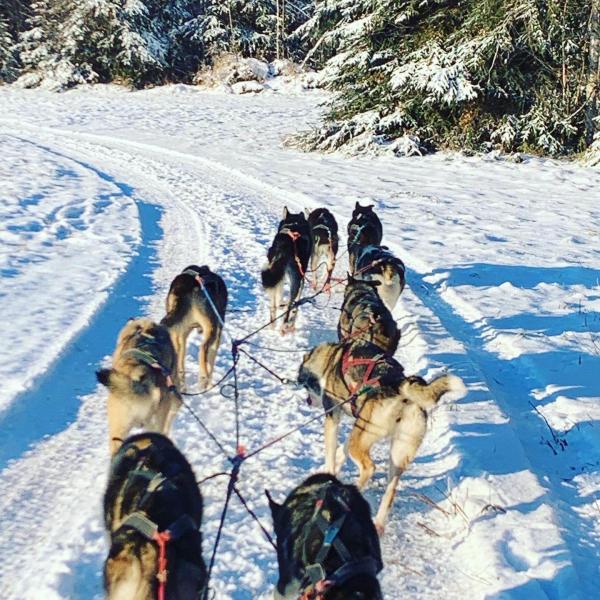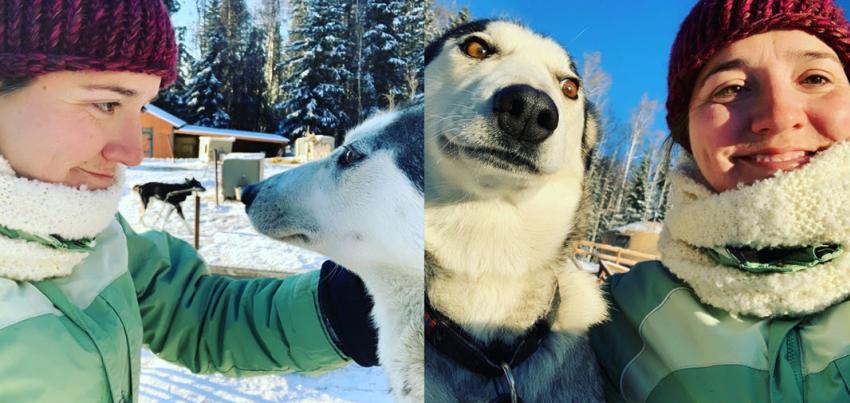 Find someone who looks at you the way that Gray looks at me…
Chena Hot Springs
Chena Hots Springs is a lovely winter resort nestled between snow-covered mountains—quite the picturesque little village. The resort itself has been around for 116 years and the biggest draw is the namesake hot springs. It's a pretty cool experience (pun intended) being able to swim outdoors in -20 degree weather. While the initial entry into the springs is a bit…err…rough, once you're fully emerged into 103-degree water, those first few minutes of cold become well worth it. As the night goes on and the temperature continues to drop, expect to see strands of your hair begin to freeze. To prevent this, I'd personally recommend wearing a stocking hat. However, the frozen hair look does make for a very fun, Instagram-worthy picture.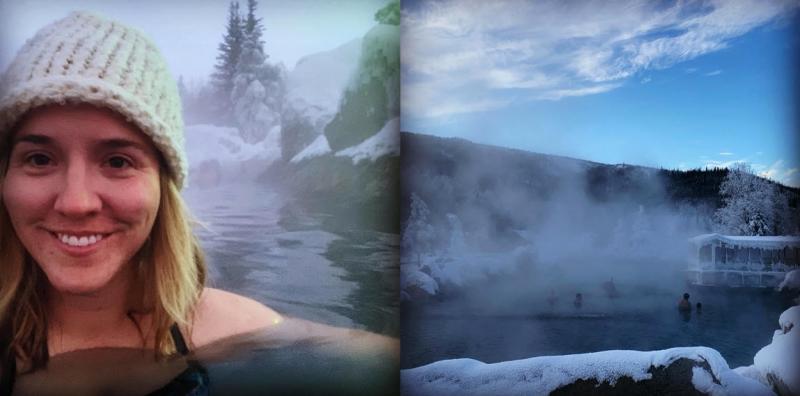 Aurora Ice Museum/Bar
There's nothing like enjoying a refreshing appletini in a glass made entirely out of ice, on a bar top also made entirely out of ice. That's what you'll experience in the Aurora Ice Museum/Bar, which is also located on the Chena Hot Springs Resort.
In addition to enjoying the bright green elixir, the Ice Museum is filled with stunning ice statues and other ice creations, which are carved by resident ice sculptors Steve and Heather Brice. The level of detail in each art piece is impressive and the tremendous thought and care put into each is evident. During my trip there, I got the chance to chat with Steve, who graciously answered all my ice-related questions. The museum is open year-round and is kept at a surprisingly warm, relatively speaking, 25 degrees.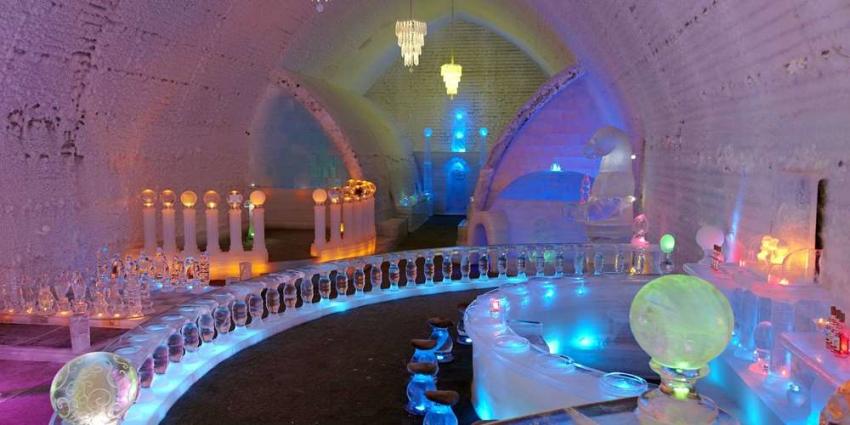 Snowshoeing/Hiking
As a kid, I loved winter. Some of my fondest childhood memories include playing in the snow, building snow forts, and sledding down the long lane at my grandmother's farm. At that age, I thought there was nothing more magical than snow. And honestly, as an adult, I still find a lot of magic in it. For those who enjoy the tranquility and stillness that can be found hiking or snowshoeing through the snow-covered forests, the hikes around the resort are a great option.
These trails provide a beautiful and serene place to get lost in one's thoughts. This type of gentle silence is a rare treasure, coming from Los Angeles. The stillness mixed with the beauty of the untouched snow made for a breathtaking hike. (Although, the steep incline might have contributed to the breathtaking-ness of it. Prepare yourself for a good cardio workout!) The couple of hours I spent hiking was a memorable part of this trip. Highly recommend.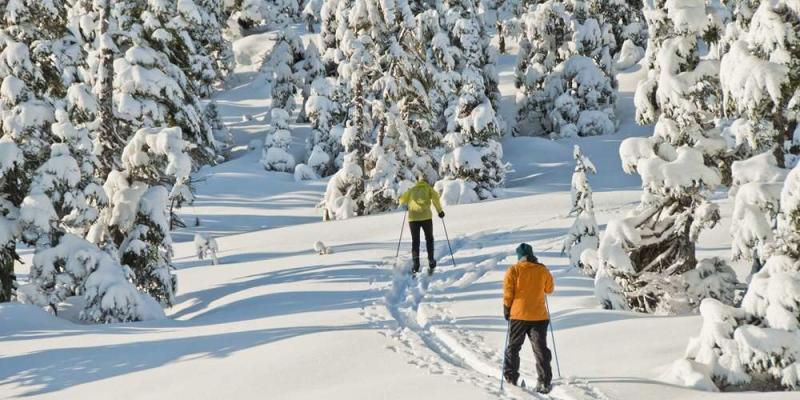 Northern Lights
The highlight for most people who visit near the Arctic Circle is the chance to see the Northern Lights. On several nights, my group was lucky enough to see this spectacular glow of the Aurora Borealis. The best viewing spot was at the Chena Hot Springs Resort, as it is literally world-renowned for being one of the best places on Earth to witness the Northern Lights.
The resort offers a nightly viewing excursion in which you are taken up to the top of the surrounding mountains via a military-style vehicle. Once at the top, you'll spend the night looking up at the most crystal-clear view of the stars, Milky Way, and if you're lucky, the Northern Lights. It's an incredible sight to behold.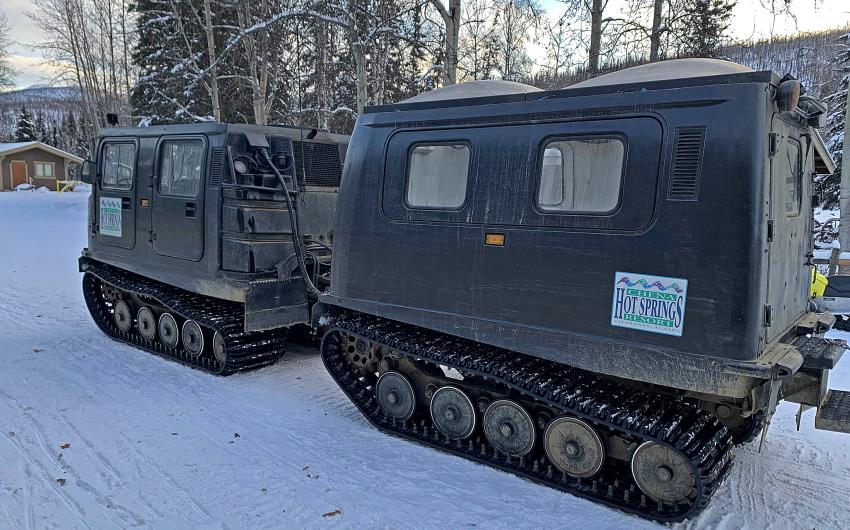 Being on a mountaintop this late at night means temperatures drop to their lowest lows. The night I was there, temperatures got as low as -15 degrees, but if you go later in the winter (December, January, and February), it can be even colder. For this reason, I highly recommend a well-insulated pair of boots and toss a few hand warmers into your socks for good measure. Keep those toes warm! 
Of course, you're not expected to stay outside the entire night. A warm and welcoming Yurt (a portable, round tent) is there for you to step inside, warm up, and enjoy a hot beverage before venturing out again. With plenty of heaters running, the Yurt is kept impressively warm and it's a nice place to meet and chat with other Aurora seekers.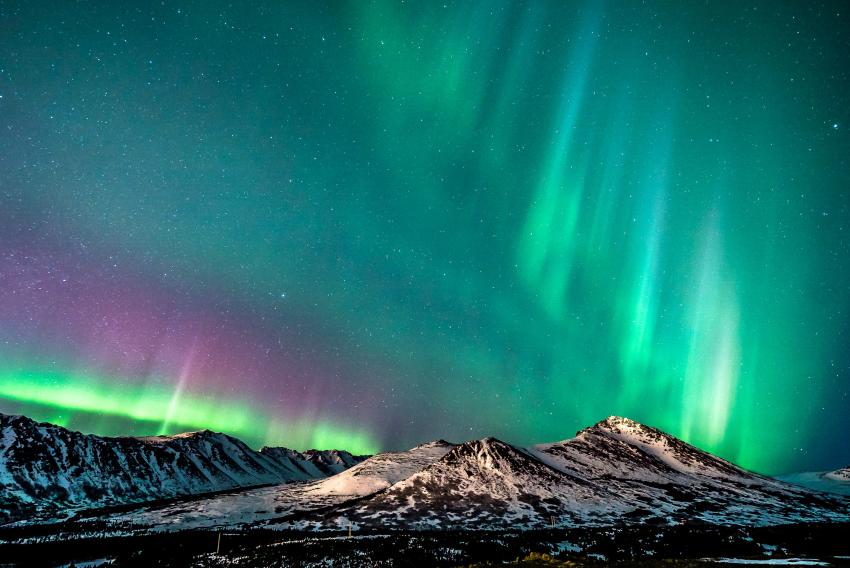 My time in the Last Frontier flew by, as all great experiences do. I loved my snow-covered adventure, and if you're reading this blog because you're considering a trip—I'd highly recommend it!! I've been fortunate to travel many places around the world, but Alaska was an experience all its own. The Southwest Adventure Tours team has compiled a great itinerary that offers travelers a unique, exciting taste of the Alaskan experience both past and present. 
So, until next time Alaska. I'll be back. And next time, I'm bringing a warmer coat. :-)
Click here to learn more about this tour.