Customer Reviews
• "The trip yesterday was amazing.  Glenn was such a great tour guide and added to the memorable experience and never rushed us at all.  I would recommend him to anyone and would do another trip myself and request him the next time I come out there.  Hopefully for a trip to Moab."
---
• "Our driver/guide Glenn has been fantastic all the way for information/introduction and it has been a long day for him when we are back @9pm.I didn't know your company before so I normally go for viator/gray line. But I will definitely recommend your trips to anyone that I know who is coming to the Wild West. Again, thanks and please let Glenn know that we really appreciate his trip!"
---
• "Robin was an absolutely outstanding guide. He was more then helpful with all our reservation information and once out on the trail he proved to be quite the expert! It's obvious that his love for the southwest makes him a go-to guide! Even when we were at stops and happened to see another southwest tour, Robin new more information as well as more in depth information on what we were seeing and the context that made it pertinent. Being 23 and an avid hiker, once we arrived me and my travel buddy were worried we would be stuck driving to scenic outlooks - Robin made sure that didn't happen! He made sure to accommodate us and include the group while doing so. We left the tour feeling like we had made a van full of new friends and that we knew so much more then we thought we would about the southwest!"
---
• "So nice to have someone take care of me for awhile. Haydee did an excellent job. I had no worries, she took care of everything. I would love to go on another adventure with her as my guide."
---
• "We have taken many tours and this is by far the best tour guide we have ever had. Haydee goes out of her way in a very pleasant way to accommodate everyone, regardless of their physical abilities.We would highly recommend her, and have to others already."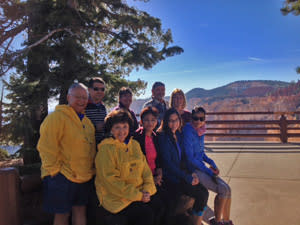 ---
• "Raveny was outstanding. She kept us on schedule, was accommodating to individual preferences and arranged hikes to suit our interests. She was knowledgeable, friendly, helpful."
---
• "I have traveled extensively through out the world and used many guides. Robin is one of, if not the best I have experienced. He is very much a "people person", bonding with each member of his group and very considerate of each individual's needs. He is very knowledgeable of the history and geology of the region we covered."
---
• "Sarah was a fantastic guide! She has a great personality and was very knowledgeable about everything we were seeing. we loved every moment of our journey and hope to come back and do one of your longer tours. Thanks for a great time!"
---
• "Dennis was extremely knowledgeable, went out of his way to accommodate us all. His patience and willingness to go the extra mile commendable. We were all thankful he was our guide. The best."
---
• "Raveny went over and above to meet my needs and those of the rest of the group. She is a great asset to your company, very efficient!!!!"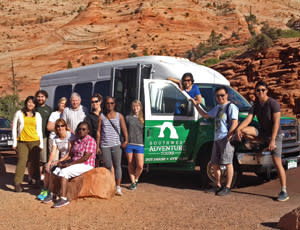 ---
• "Jason couldn't have done anything better. His service and knowledge was impeccable."
---
- "Our guide, Tommy, was knowledgeable and accommodated our need to adjust to the altitude and to go on short walks, rather than hikes."
---
• "And so, I now confirm that both Anne and myself felt that the tour with Sarah to the Bryce Canyon and Zion National Park was the best tour that we have ever done. In that regard, please note that Anne and I have travelled in USA, Australia, Vietnam, France and Ireland."
---
• "I loved Dennis! He was laid back and stopped at a lot of little places of interest besides the regular hikes. A few times he asked us as a group if we wanted to do something (which we always did!) and I felt really involved in the experience."
---
• "Raveny was the best, she took care of our every need in the most professional manner, she made things fun and interesting. I would consider her a major asset to this company."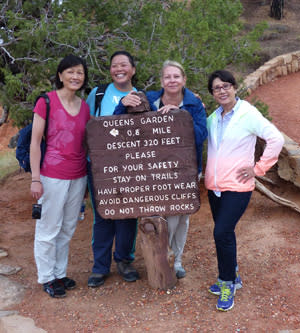 ---
• "Tommy, our guide was very good. He took us to the best places and we learned a lot in the process. He was flexible and planned each trip according to our abilities and interest."
---
• "Taken many tours and Haydee is by far the best guide we have had. Went out of her way to show us a great time, and she loves doing it. We can tell. We will definitely recommend her."
---
• "Everything about this trip was perfect. The van we traveled in to the hotels we strayed at. Our guide Sarah was super. Always felt save and comfortable with her. - "My grandson and I loved our adventure."
---
• "Our guide, Haydee, was awesome. Just the right amount of narration during the trip. She was extremely caring and considerate of our needs and preferences. She made excellent choices on when and where to go, Southwest adventure tours is fortunate to have a guide the caliber of Haydee."
---
• "Robin was very thoughtful and organized. A great communicator."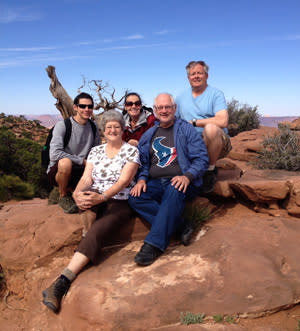 ---
• "Kat was absolutely terrific - the best guide ever! She was also a lot of fun and quite knowledgeable and energetic."
---
• "Dennis was a very helpful guide. Great guy."
---
• "The whole van LOVED Dennis."
---
• "Dennis was an excellent driver, guide, helpful, full of knowledge and easy going. He also had a great selection of music as well. Very enjoyable all around."
---
• "Ean was an amazing guide! Very patient, explained thoroughly and really went out of his way to have fun on our tour! He is by far the best guide I have ever had while on a group tour and because of Ean I would highly recommend South West Tours to anyone. It makes a difference when you have a leader who has great energy because it sets the tone for the group! He is funny, easy going, and got along with our entire group! It was a pleasure to have him as our guide."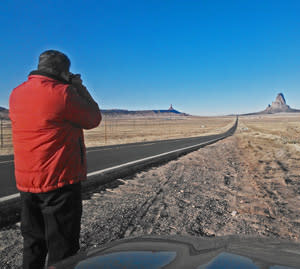 ---
• "Sarah was a terrific guide, and went the extra mile to ensure that her guests were well taken care of!"
---
• "Dennis was our guide and he was awesome. One of the best trips that our family has been on. Dennis made the trip! We have discussed taking another trip with your company and we'll request Dennis for sure. Top notch employee."
---
• "Robin was very knowledgeable."
---
• "Our guide, Robin, was very accommodating and knowledgeable, and did a phenomenal job of making our experience a most pleasurable and memorable one."
---
• "Sarah was the best tour guide She met and exceeded our expectations."
---
• "Sarah was so knowledgeable and accommodating. She is an asset to your company Our trip was great and met all expectations."
---
• "Ean was just great. We could really tell that he cared about us and wanted to make sure we had a great time. He is knowledgeable and went the extra mile."
---
• "Ean was very accommodating and knowledgeable about the places we visited. Great guide!"
---
• "Jason was excellent. He met and exceeded all of our expectations. His knowledge about the history of the area, the geology of all places we visited, as well as his willingness to encourage us to take on some additional scrambles to get to a better vantage point were awesome. In addition, he was able to offer insight into the local attractions and restaurants which made our stay after the hikes feel truly like a vacation."
---
• "Dennis was our guide and he was awesome! Great knowledge of the parks."
---
• "Enjoyed the small group experience with Ian who was most fun to be with. Ian Very efficient at instructions, meeting times, etc., keeping on track, decision-making, etc."
---
• "Dennis is awesome!"
---
• "Robin Luse was excellent! He is probably the best tour guide we have encountered over several years/trips. Would actually request him when we take another trip."
---
• "Haydee is THE best. I don't know how much you pay her, but I know that it isn't enough. :-) She never frowned and did everything in her power to optimize the experience for everyone in the group. Love that woman and would love to have her as a guide on every trip I take."
---
• "Raveny was great. She had a very tough job but preformed it in an exemplary fashion! She is a great representative for Southwest Adventure Tours."
---
• "Robin was wonderful. He was extremely knowledgeable and had a great voice. He was very accommodating to make sure each of us had a great experience. I liked his calm demeanor. He is a very kind man. He was exceptional and I don't think there is a guide who could top him! He even took us to a Burger King with Code Talker display. I would have driven right by if I was on this trip on my own."
---
• "My guide was Robin Luse. I promise you whatever you are paying him is not enough. His expertise, personality, humor and astounding knowledge of the history of all the places we visited made the amazing trip so much better than had we not had him for a guide. He is the reason I will be recommending Southwest Adventure Tours to all my friends. You have a great tour made even greater by Robin Luse. Do not lose him."
---
• "Dennis was spectacular. I would love to return next summer and have him as my guide again."
---
• "Jim was truly OUTSTANDING! This was my first guided tour, visit to the Canyons/National Parks, and UTAH. He made the journey comfortable; he was approachable for questions; and he knew so much history about the areas that fascinated me. Thanks, Jim!!"
---
• "Dennis Bailey was great - easy going, competent and very informative. He made the tour a nice experience."
---
- "Robin was super, unflappable and kept us on track. Excellent tour guide."
---
• "Raviny was great. She was quite knowledgeable and if she didn't know the answer would research it. She was very willing to do what we wanted (she was prepared to get up and take whoever wanted to go on a sunrise tour [even if only 1 person])."
---
• "Haydee was great. She had patience and plenty of knowledge."
---
• "I loved my guide. We had a mixup so we had Sara the first day and Raveny the rest of the trip. We loved both but Raveny captured my heart. She was the best guide ever."
---
• "Haydee was very enthusiastic. Always ready at the start of each day. Managed the various fitness levels of our group so everyone was able to get to see what they wanted."
---
• "Tom is a knowledgeable guide, a fine leader and a good driver with an obvious love and appreciation of the areas we visited. Thanks, Tom!"
---
• "Haydee was an exceptional guide: personable, knowledgeable and helpful. She managed to find hikes that balanced the needs and abilities of our group that ranged in age from the 50's to the 80's and showed us we were capable of doing more than we anticipated."
---
• "Haydee is EXCELLENT EXCELLENT. We had a fabulous experience with her as our driver/guide. She is knowledgeable, personable and experienced. I would definitely book another trip if I could be guaranteed she would be the guide."
---
• "Haydee was excellent; very knowledgeable outgoing and friendly. If I take another trip with your tour company I would request her as my tour guide."
---
• "Cyndi was excellent in every way. We have taken quite a few tours and she was one of the best. She was confident, caring and informative. She has excellent people skills. A great sense of humor so each day with her was a fun one. I'd go with her on another tour."
---
• "Superior. Jim Clonts was very professional, courteous, knowledgeable, caring and patient with our diverse group. Worked very hard (and successfully) to be sure we had a marvelous experience. Much appreciated by all in our group."
---
• "Jim is an excellent tour guide/driver. He has a vast knowledge about the parks and convey clearly to everyone. I enjoyed his company."
---
• "Ravens was energetic and sweet. It was nice to get the additional knowledge from Jason as well."
---
• "We were all so lucky to get Jason and Cindy as our guides.  They were the BEST!  They made sure we were educated on each place and so accommodating to each of our needs/requests."
---
• "Tommy took care of everything to make the trip worry free. He kept us moving so that we could see the most possible. Had great knowledge of the parks, area, history, etc."
---
• "Jim was great."
---
• "Sarah was wonderful! Could not have asked for a better guide."
---
• "Dennis was a peach to everyone. Also very knowledgeable."
---
• "Katherine did a wonderful job."
---
• "Cindy was great and very accommodating with our requests."
---
• "Our guide Jim very personable and worked well with us to see that we were able to enjoy our experience."
---
• "We really enjoyed our day with Cat. She is an awesome tour guide and showed us things we would never have seen on our own. She made the long trip really enjoyable and refreshing which is hard to do on a 9 hr car ride. Kudos to Cat!"
---
• "Glen was very easy to talk to and helpful with everyone on the tour. I appreciated his flexibility with the time spent at various locations. And, I did not feel pressured to "hurry up" my visits and short explorations."
---
• "Cindy was knowledgeable and informative about the areas and sites we visited. She was also very patient with us."
---
• "Tommy did his best to make sure each one of us enjoyed the trip."
---
• "Haydee made our trip memorable. She is an excellent driver, knowledgeable guide, has a bubbly personality, a can-do attitude and a pleasure to be with."
---
• "Our guide, Robin, did a fantastic job of providing for the needs and desires of everyone in the group. Five out of Five Stars!!"
---
• "Sara was my guide. She was so pleasant and a joy to be around. She was the most outstanding guide i could have had. She was so informative and very knowledgeable. She NEVER acted as it was a chore for her to be there. I Loved Her!!"
---
• "Tommy is the best! We had an awesome time!"
---
• "Katherine is just the Best! We had a wonderful group that got along perfectly. Someone dud a great job of grouping us somehow. As being a single, this was very important. So appreciated Kat's enthusiasm and great attitude."
---
• "Within 7 days we felt that he is our son. My husband felt sorry that we have to leave Ean. I never had a guide who takes care of each and every individual. He is the perfect guide who is dedicated to his job. I never expected to see so much in these national parks."
---
• "Can't say enough about Ean. We were a group of senior travelers - all concerned about whether we would be able to enjoy the trip. Ean got us talking with each other within the first few minutes and we never stopped and he was able to accommodate our varying activity levels."
---
• "We went with Cindy to Bryce and Zion; we loved the fact that we could do several hikes with her and that she led us to really nice places! Useful Information on plants and animals, Geology etc; it was the best tour! And we would recommend it to anyone who likes to have a Real experience and not just a bus shuttle with never-ending flow of information :-)"
---
• "Excellent. Our guide, Katherine (Kat) was fabulous. She really took good care of us. She brought water and snacks. She had a plan and would ask us if this is something we wanted to do. We got to see so, so much. Kat was very accommodating to our wants and needs. She even checked that we had water and that we were drinking it. She checked with us, as we were hiking, to ensure we were okay. She was our leader and a part of our "van family". We got to see so, so much. I felt that with Kat, leading and guiding us all the way, we really got to see the beauty and awesomeness of the National Parks, but not only the National parks! Kat also took us to State Parks, other areas with trails, caves, waterfalls, beautiful scenic drives, and overviews. We really got to see Utah! Thanks so much Kat!"
---
• "Our guide, Ean, was awesome! He always went above and beyond what was expected. He was totally professional and very patient with us, a group of "seniors" who could be very trying at times!"
---
• "Had a fantastic experience with Dennis!"
---
• "Dennis was fantastic. He was very laid back, which worried me about not having a set schedule (like work)...however, it was exactly what I needed - it made me relax more and have fun. He showed us a lot of secret stuff that other guides might not know."
---
• "Kat was outstanding. She had incredible energy and a true passion for the outdoors."
---
• "Dennis was great, so knowledgeable, and showed a sincere enjoyment of the parks and our group; that made it extra fun and comfortable."
---
• "Jim was an awesome guide! He was knowledgeable, personable, and engaging. I loved the trip!"
---
• "Jim used excellent judgement in finding unique off the beaten path experiences for our group which included young kids up to not so young grand parents."
---
•"Sarah was the best, so knowledgeable, and her experience in all aspects was a pleasure, handling the group, setting the ground rules, expectations, patience, and great manner, while still being flexible with the needs of our group with age ranges from 30s to 70s. We just loved her. Our group formed a lovely bond. We felt very fortunate that the experience for us was so memorable. I cannot say enough about Sarah, as clearly a guide is key to one's enjoyment and satisfaction."
---
•"Sarah was the best!!!!!!!!"
---
• "Sarah made our trip a breeze even though we went through a snowstorm in the middle of it. She was knowledgeable, kind, organized and accommodating."
---
• "Ean, our tour director was excellent and kept everyone's needs in mind while on tour."
---
• "Jim was very good."
---
• "Jim was great, very informative and helpful."
---
• "Haydee (or however one spells it) was well-informed about the areas we visited and was hard working and always pleasant."
---
• "Tommy knows his facts! He gave us so much information. If we had traveled on our own, we would have missed so much. His experience and years of guiding really shone through."
---
• "Ean was superb! He was knowledgeable, efficient, enthusiastic, and very tactful with an extremely difficult member of our group. Also a good van driver."
---
• "Our guides were wonderful (Katherine and Tom)."
---
• "Our tour guide, Cyndi, was beyond excellent!"
---
• "Robin was amazing! So great at getting to know us, and ask open ended questions that got our group to really connect with one another. He was so knowledgeable about the history and the areas that it made it really fun visiting them. He had a lot of knowledge on local floral and fauna which was great to hear about. When a once in a lifetime opportunity came up he was accommodating to change the schedule and make it work for us! Robin made each lunch stop a great experience picking locations that spoke to the areas, and offered quality food and service. He even personalized one of the stops when I told him of my passion for good coffee! I would definitely go on a tour with Robin again, and recommend him to anyone I know! He is an extremely valuable employee and should get a raise/bonus!!"
---
• "Ean, is a real asset to your team. Great guide, very attentive, fun, passion for his job."
---
• "Robin was our guide. He's a true professional - very knowledgeable, insightful, articulate, helpful and polite! I will request Robin for my next Southwest Adventure tour!!"
---
• "Denis is great! The pace and the intensity is just right for us. We really enjoyed this trip and highly recommend it to our friends!"
---
• "Dennis was so helpful and informative. Would suggest that he pull the group together each morning to give instructions and schedule for the day. I felt he did an excellent job catering to various abilities. He went out of his way to make every one comfortable and to ensure that they had a good time. Bravo!"
---
• "We were very happy with our guide Ean. He was very helpful and had thought of everything."
---
• "Robin Luse was an excellent tour leader... informative, flexible, knowledgeable, entertaining. We had a mixed "skill-level" group and he was able to adapt the offerings to all of us to an excellent degree of satisfaction. Would do another trip with Robin at the wheel!"
---
• "Robin was excellent in his knowledge and customer skills. The days were very long but I'm not sure how he could change that."
---
• "Robin was awesome - friendly, articulate, insightful, knowledgeable and considerate! He was very concerned about safety every mile of the trip. I've already shared pictures with friends - they are ready to sign up- so enjoyed being with a smaller group of people - one of my best vacations !!!! THANK YOU!"
---
• "Haydee knew the information so well. We enjoyed her enthusiasm for the area we were touring. We felt safe with her driving while telling us all these wonderful stories."
---
• "Our guide Haydee is over professional and knowledgeable about all the scenic spots. she was also very helpful trying to help me to recover from food poisoning I am very thankful to her."
---
• "Our tour guide, Robin Luse, was excellent! He met everyone's needs despite having a very diverse group. He was very knowledgeable, , pleasant and entertaining and went well beyond what was expected."
---
• "Our guide, Jim, was very knowledgeable. Was able to answer all our questions and made the trip a great experience."
---
• "Our guide, Cindy, was so good at tailoring the activities to meet all our diverse needs. She was really good at planning and giving enough time for everything to do whatever they wanted at each of the parks."
---
• "Dennis has excellent customer service skills. We all liked him. He kept us laughing all the time."
---
• "We felt very fortunate to have had Ean for our guide. I'm sure that all the guides are good, but Ean did a wonderful job."
---
• "Had a great time with Tom. He has a good sense of humor and is very knowledgeable about Utah and the State Parks."
---
• "Dennis was terrific! We particularly liked his adaptability to the desires/needs of our group."
---
• "Ean our guide was very knowledgeable and informative."
---
• "Ean Dunder was our tour guide. He took care of everything and made this my best vacation ever. He has the timing of everything down to a science. Ean's vast knowledge and experience is invaluable."
---
• "We LOVED Sarah! She was delightful. She adapted to our groups "remedial" skill level and packed everything possible into our adventure. She had a genuine knowledge and love of the places we visited. It was such a memorable, enjoyable trip and she was a very big part of that."
---
• "Dennis, our guide, was fabulous! So personable and accommodating. Since he is from the Moab area, he is very knowledgeable and shared it with us."
---
• "Magnificent trip! Great tour guide.  Tom was perfect.  The itinerary, the accommodations and food were all great.  We would recommend you to anyone. We had a great group of six people and loved it. We are now in Park City and another week of touring with my daughter. Thanks again."
---
• "Just a quick note to tell you what a wonderful time my sister and I had on the Arches & Canyonlands Adventure Tour last week.  When we found out that we were the only two on the tour, we could hardly believe you hadn't cancelled it or asked us to reschedule.  And more grateful than you can imagine, because we couldn't have rescheduled and would have had to miss out on one of the most fun adventures we've ever been on.  So thank you so much for that!!!
---
• "You've most likely heard this already from other customers, but we wanted to thank you for giving us Tommy Parmer as our guide and add our endorsement of his abilities.  He is a first class tour guide!  He took excellent care of us, kept us safe, and gave us lots of information about the area.  He led us up, down, over and through some places that without him, we would have never even attempted and we would have missed out on so much.  But with his confident leadership, immense patience and constant encouragement, we found out we can do lots more than we ever imagined, and we had such a great time!  Just ask him about going through the Fiery Furnace . . . Best! Day! Ever!!!
---
• "Tommy also went out of his way to do little things that were absolutely above and beyond.  For example, because the hotel caters to tour buses, each morning there were lots and lots of people crowded into the very small breakfast area all trying to get food at the same time, which made it very difficult.  After a couple days of this, on the morning of our hummer tour Tommy went down to the breakfast area super early (before it was even officially open), and picked up breakfast for us and then delivered it to our room when we were ready for it.  And while we were out on the trail, he was always right there, helping us, offering his hand, and sometimes literally lifting us over some of the more difficult places.  And when we asked for an extra stop at the Visitor's Center, or a night to look at the stars, he was quick to oblige us and make it happen.  We knew we were in good hands every minute of the trip.
---
• "So thank you again so very much for everything.  We hope to plan another adventure trip, and if we do, we know who to call!
---
• "Driver Tommy was very friendly and outgoing and took care of all of his passengers and loved his job. He was always on time and knew what he was doing."
---
• "Our tour guide Jason did a fabulous job tailoring the vacation for our needs, and was very knowledgeable. We all had a great time!"
---
• "Fantastic trip. We could not have been more pleased especially after the Hummer ride in Arches going up and down those rock formations that looked impossible to climb."
---
• "Our tour was spectacular and our tour guide, Tom, was wonderful! He went the extra mile to give us personalized attention and take us off the beaten path. "
---
• "I had a great time! It was my first time in Utah, and I had no idea the state was so beautiful! The tour was well planned and organized, but also offered enough flexibility to see more along the way. Our guide knew the area thoroughly , and was able to show us the area's hidden treasures, including natural sites, local shops and restaurants. I will be traveling with this company again, and would definitely recommend it to others."
---
• "It was a wonderful tour seeing 4 National Parks in 4 Days....and I did love it, however it was more hiking than I was up for....so I most likely will not do another one....but did meet some wonderful folks. The tours are small and you do have an opportunity to meet everyone...there are only 10 to 12 folks on each tour. The guide we had was terrific and very knowledgeable and fun...the trip was a total success and for me personally had I been stronger would be happy to take another tour from this business....give them a try, well worth it!!! Thanks for offering!!!"
---
• "The guide, Tom, was amazing. He was knowledgeable, helpful, accommodating to each person in the group, and very patient. He had a wonderfully outgoing personality and everyone on the trip thoroughly enjoyed him and his leadership abilities."
---
• "Great trip - wonderful guide; beautiful country and great fellow travelers."
---
• "Very fun. Great tour."
---
• "The entire trip was great. The tour guide had extensive knowledge in all areas that we visited and shared local info as we went. He also made sure everyone in the group was enjoying their experience. Would definitely recommend. "
---
• "Our first experience with Southwest Adventure Tours was great. They provided very comfortable accommodations both in the tour van and the nightly stops. Our tour guide was very knowledgeable about the areas we traveled through and was very professional throughout the entire trip. We highly recommend this company for taking tours."
---
• "Tommy was a FANTASTIC tour guide!"
---
• "The Nat'l Parks tour was extremely well-organized, and the guide was very knowledgeable and personable. The accommodations were great."
---
• "Our guide, Tom, was so knowledgeable about all of the areas it was uncanny. Beautiful, beautiful country; would do it all over again in a heartbeat!"
---
• "Great guide Tom, he was very helpful and informative throughout the entire tour. I give this business a five star rating. Would definitely book with Southwest Adventure Tours in the future."
---
• "Van was uncomfortable & crowded but the tour was great! Loved all the national parks! Thanks for this opportunity!"
---
• "It was awesome! I had a wonderful time, and there are no suggestions for improvements from me. However, as a single person, I had the front seat! Some may not have been as comfortable."
---
• "Driver/tour guide was great. Beautiful area to see. We saw a lot in four days with our tour guide who was very aware of the area. Good deal for the money we spent. We would use Southwestern Adventure Tours again. "
---
• "Our guide Tommy was wonderful! We also had a fabulous group of people to share the adventure with."
---
• "We had a fabulous time and would recommend this tour company to anyone wanting to experience the magnificent beauty of our Southwestern National Parks. We really appreciate the skill and personal attention displayed by our guide Tommy. He went above and beyond to assure we had the opportunity to see as much as possible and enough time to shoot memorable photos of our experience. Thanks Tom. Thank you Jason for assigning us to a van with people of similar touring interests and abilities. This tour will remain a favorite for us."
---
• "Tour guide Dennis was knowledgeable, gracious, took great care in driving his precious cargo (3 families). Took us to good EATS - beautiful hikes & trails. 3rd day was a lot of time in van - might consider Capitol Reef with other combo. Dennis tailored trip to our needs and took extra care to see our wants met as well. Took detour to Pawn Stars at (3 families) request. All this at a drop of a dime when owner/operator Jason was out with bad back. We are grateful and in debt to Dennis & SW Tours - looking to join tour for another vacation, another park/destination. GREAT VALUE - GREAT MEMORIES - GREAT VACATION - THANK YOU DENNIS and Jason. Ruby's Inn was fantastic!!! Kanab was quaint - loved the spots Dennis knew and treated us to."
---
• "The tour was great. Tom was an excellent tour guide."
---
• "Our guide Tommy was so knowledgeable. His knowledge of the parks made our trip more than just looking at the rocks. This was a wonderful trip. We look forward to our next outing. A must do."
---
• "Incredible trip, knowledgeable and attentive tour guide. Enjoyed the education, accommodations, laughter, and locations. Far exceeded my expectations. Will travel again with this company!"