Transportation
Southwest Adventure Tours offers comfortable transportation in our fleet of well maintained Mercedes Sprinter Vans or Dodge Promaster vans. All of our vehicles are 2014 or newer and we are continually updating our fleet.
Vehicles are thoroughly inspected before, during and after your tour for any safety or comfort concerns
Vehicles are deep cleaned at the beginning of each tour as well as each day after your adventure. Each vehicle has its own cleaning kit, masks, and safety gear
Customized seating to afford the best viewing experience
Vans seat 13 plus a driver for the ultimate small group atmosphere
Our Driver/Guides are required to have a valid DOT Health Certificate as well as basic CPR- many of our guides have taken the extra step and earned their Wilderness First Responder Certification!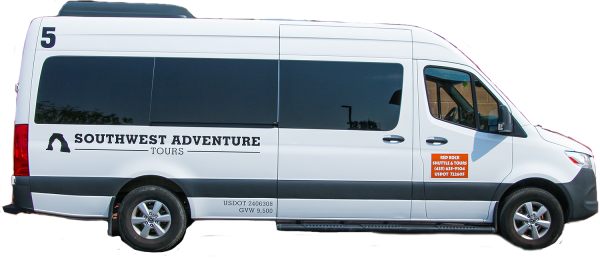 Shuttle Service
We also offer shuttle service and transfers from and to gateway cities, such as Las Vegas and Salt Lake City, to popular destinations, such as Moab and Springdale in Utah. Our shuttle service is offered through our subsidiary, Red Rock Shuttle.
Shuttle services offered:
In the area near Zion National Park, we offer "backcountry" shuttle services to remote trailheads. See Red Rock Shuttle webpage for more details.
We used to offer alternative shuttle service into Zion Canyon to bypass the National Park's bus system, but the National Park discontinued private access in June 2021. 
Zion Backcountry Shuttle
Our sister company, Red Rock Shuttle, provides backcountry shuttling service in Zion National Park. If you would like to leave your vehicle parked at the visitor center or Springdale, be taken to a remote trailhead, then hike one-way back to your vehicle, then this is the service for you.
Red Rock Shuttle provides shuttle service that will pick you up at or near the Zion Canyon Visitor Center, then take you to the following trailheads:
Chamberlin Ranch, Orderville Canyon or Mystery Canyon, where you can hike out through Zion Narrows to Temple of Sinawava
Hike the West Rim Trail from Lee Pass in Kolob Canyons/Fingers to Angels Landing and The Grotto
Hike the West Rim Trail from Lava Point to Angels Landing and The Grotto
One-way hikes thru The Subway - park and be picked up at Left Fork Trailhead and be shuttled to Wildcat Trailhead
Learn more about this service and more at the Red Rock Shuttle website or contact us at 800-970-5864 to inquire about availability.