Our Team
It would be our pleasure to have you travel with us on our journey to  "Explore, Experience, Enrich!" We are so fortunate to have a diverse and talented team who provide endless possibilities for your next adventure!
Meet the Team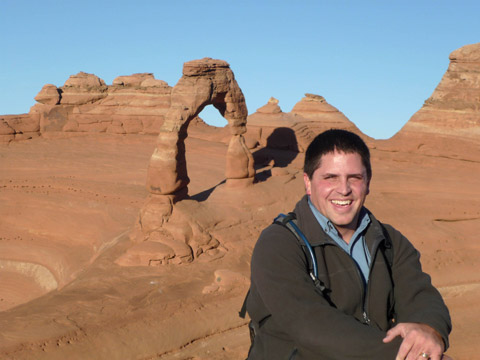 As a native of Utah, Jason grew up visiting the National Parks, Monuments, and other regions throughout the Western United States.  That is where he first fell in love with the history and geology of the area.
As he grew older, he continued to enrich his education and knowledge at nature camps and class trips throughout the Southwest. One of his favorite trips was down to Havasupai Falls and the Colorado River in the Grand Canyon.  Even when he attended college in California, he continued to enjoy the diverse geological and ecological environments nearby. 
He has enjoyed camping, hiking, backpacking, and touring throughout the west for the last 20 years.  One of his greatest loves is sharing his passion of the history, geology, and beauty of the Southwestern United States with those he tours with.
Julie Burton-Ray started in the tour business in 1983 after taking a class at the University of Utah in Tour Guide Development. She worked as a local tour guide in Salt Lake City and surrounding areas. She went on to work as a tour director for a large domestic tour company from 1986-1989. From 1990-1997, Julie worked for a Salt Lake City based Destination Management Company working with conventions, meetings and incentive groups. After a few years away from the industry, she returned to the tour business in 2003 as the Director of Operations for a Receptive Tour Operator.
With close to 30 years of tour related experience, Julie has joined Southwest Adventure Tours as Operations Manager. She continues to enjoy traveling, Pilates, spending time with family & friends.
A native of Utah, Shawn grew up spending as much time in the outdoors as possible on family camping trips, scout camps, hunting, fishing, skiing, hiking and mountain biking. From exploring the backcountry of Yellowstone to the slick rock of southern Utah, the National Parks became a lifelong passion.
While a student at the University of Utah and working as a ski instructor, he began his tourism career in 1988 when hired by a local company to work as a Japanese speaking ski guide. This led to summer time work as a Japanese speaking tour director taking groups to the National Parks & Scenic wonders of the west. In 1990 he was then hired to work as a sales manager for the Japanese market and was promoted to the Director of the Asian Division in 1995 and to Vice President in 2000 where he continued through early 2019 with the primary responsibility of sales and tour design.
Shawn brings 30 years of experience designing custom tours for all types of groups from a few passengers to a few hundred to the Southwest Adventure Tours team. He also brings his passion for the outdoors and scenic wonders of the west and can't wait to help you and your clients experience them for yourself.
Kaylee Hopkins - Sales and Operations Admin
Raised in Southern Utah, Kaylee grew up spending the majority of her time outdoors. When she's not indoors playing volleyball you can find her horseback riding, camping, fishing, hunting, hiking, and spending time with family and friends. She loves the breathtaking views Utah has to offer, and is always up for an adventure. After graduating high school in 2019, she was elected as the 2019-2020 Utah FFA State President. While serving FFA members all over Utah, she was able to share her passion for agriculture and leadership. With this position, she also had the opportunity to travel, and loved every minute of it. Kaylee's devoted to making those around her feel welcome. Working for Southwest Adventure Tours she hopes to help clients find their perfect adventure as they experience the great outdoors!
After spending 12 years in Southern California, I was fortunate to move to Moab, Utah, my father's hometown. I grew up with the Arches and Canyonlands as my backyard. I spent many hours exploring the wonders of these parks.
My career choice led me to become a Professional Land Surveyor. My background is in the Mining and  Energy fields. This has enabled me to travel extensively in Southern Utah, working in all areas surrounding National Parks, Monuments and State Parks.
As my family was growing up, we visited many of the scenic areas in the Western United States. Whether we were Camping, Hiking, Mountain Biking, Boating or operating all sorts of off road vehicles we were able to see all of what the West offers.
My passion for reading about History and learning more about Geology enhances my ability to appreciate what we have here in Utah and surrounding States. Go along for a ride, share in the past, go back in time, let me share the beauty that lies upon the scenic byways, on and off the beaten  paths.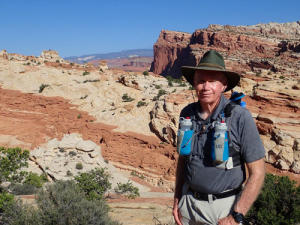 I was born and raised in Northern Utah at the base of the Wasatch Mountains. It's there where I developed my love of the outdoors. Southern Utah is just a short drive away and I can often be found there hiking and running the trails of the beautiful red rocks. It has also been my pleasure to explore the trails, waters and mountains of Yellowstone and the Grand Tetons.
I am a "Peak Bagger" and have summited the peaks in the Western United States from Mount Whitney in California to Mount Elbert in Colorado and from Wheeler Peak in New Mexico to the Grand Teton in Wyoming.
My hobbies are centered around the outdoors and I enjoy flying a small plane to my outdoor destinations as well as hiking, trail running, mountain biking, fishing, skiing, snowshoeing, photography and kayaking.
Now that I have retired from a successful career as a quality professional in the steel fabrication industry I am happy to share my love of the outdoors with others.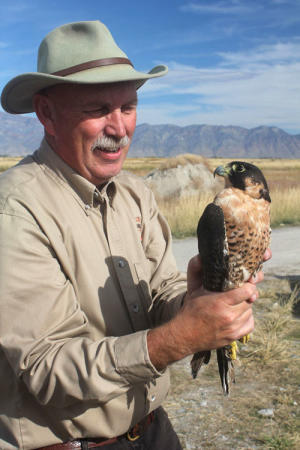 Phil Douglass has spent much of his life exploring wild lands  and studying wildlife of the west. In 1986 he began working with the Utah Division of Wildlife Resources and retired after 32 years of serving people and Utah's wildlife. He credits his older brother Kirk for instilling in him his love for wilderness and wildlife by taking him on backpacking trips from a young age. (Kirk also serves as a guide for Southwest Adventure Tours).
Phil's mission in his career, and indeed his passion throughout his life, is connecting people with these wild lands and wildlife. He has been referred to as "Utah's Wildlife Ambassador" and received the Wildlife Conservation Educator Award from the Utah Audubon Council. He says however, his greatest compliment came from his granddaughter as they were looking at his wildlife photos: "Pappy, I think wildlife know you and find you so you can help other people love them too!" said Kenzlie Douglass, age 7.
Phil loves sharing his insights and experiences with his family and friends (old and new) regarding wildlife habitats and how various animals have adapted to survive and thrive. He is an avid history buff and cowboy poet, so his trips often are laced with a tune on the harmonica and ballads from western history. He happily states that his experiences have proven that "Gifts from nature and music are companions for life!" Learn more about Phil, his music and his trips from his website campfirecompanion.com and his blog at mrcampfire.wordpress.com
I grew up all over the western United States, even homesteading in Alaska for a while, living in a log cabin. After graduating from Brigham Young University, I spent the next 25 years working for the Utah Department of Natural Resources, spending most of those years as a Park Ranger/Naturalist for Utah State Parks, with a few years with Wildlife Resources. I've been an EMT for 12 years and volunteer for the American Red Cross and Davis County Medical Reserve Corps. I am currently serving in my second term as president of the Utah Tour Guide Association. 
I raised my family recreating in Utah's national parks and love the opportunity to share them with the guests of Southwest Adventure Tours. I know you'll love the parks and cherish them as much as I do. Come see the wonderful scenery that Utah has to offer and I guarantee you'll leave a changed person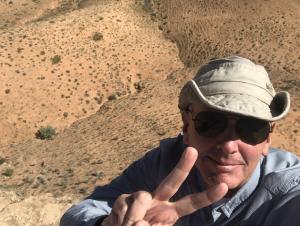 Joining Southwest Adventures in 2014, Robin's trail from the farm fields of the Midwest to our deserts, canyons, mountains and forests was a long and winding one. And he doesn't regret a step of it.
Born and raised in Indiana, Robin criss-crossed the country in a successful radio career until 1999, when he walked away, moved to Albuquerque, New Mexico, and took his first steps as a tour guide. He's never looked back.
The love for a region that began during a childhood family vacation blossomed into a second career that's lasted over 20 years, allowing Robin to take guests to places he never tires of visiting and sharing his passion for. It's a feeling he can't explain—he just "connects" with the places here. And it's become a way of life. Even in the offseason you'll find him wandering around and exploring, from the ruins, parks and landmarks of New Mexico and the Four Corners he's known for over two decades, to the high country of Wyoming and Montana, and everywhere in between.
Today Robin's base remains in Albuquerque, but his home and heart are out with the roads, trails, places and views of the West and Southwest. And he's always ready to show it off to others who share his curiosity and sense of wonder.
As the 2002 Winter Games came to life in Salt Lake City, Christopher began his career in the travel & tourism industry working winters as a driver/guide for the largest transportation company in the state of Utah with exclusive service to 10 Wasatch Mountain ski resorts. By 2004 he spent a season serving as the lead dispatch coordinator where he planned a daily average of 175 trips to move approximately 1,400 people, from 50+ locations-hourly, between Park City, Utah and Salt Lake City International Airport.
Exclusively an SUV Driver by 2005, he quickly earned the respect of noteworthy guests including Kristi Yamaguchi, Paul Mitchell, and even the band Styx. Successfully completing 400+ transfers annually (2002-2015), this unique opportunity continues to give him the background and scope necessary to create a truly specialized customer experience, along with placing him in the 'million mile club'!
The summer's of 2011 until present have seen him guide/drive and manage many custom tours in the western United States. From Mt. Rushmore to the California Coast, Glacier National Park to the annual Balloon Fiesta in New Mexico. The 'Crossroads of the West' come to life as he allows each tour to unfold a kaleidoscope of history, culture and local lore.
Christopher resides at the base of arguably the narrowest and steepest mountains in North America, the Wellsville's located in Cache Valley, Ut. He works year round in the travel & tourism industry. He is a respected member and former President of the Utah Tour Guide Association.
Ean Dunder - Tour Director
Ean loves exploring the Southwest and sharing that love with those around him. Born in Western Colorado and growing up in the foothills of the beautiful Colorado Rockies, Ean was experiencing Colorado before he could even walk, riding in his mother's baby-pack as she cross-country skied on the majestic Grand Mesa. As a child his family moved to Eastern Arizona where he learned to drive on the rough roads of the Apache Indian reservation and went on weekly hikes and camping trips across the White Mountains of Arizona. Summer vacations were filled with travel as his family would take a train east to a
children's adventure camp where Ean honed his skills in the outdoors and started down a path of camping that he would continue into his adult life.
 
Ean has lived in Flagstaff, Arizona for over 18 years, long enough to be considered "a local" in this town constantly ebbing and flowing with university students, professors, tourists and outdoor enthusiasts. This quaint mountain town near the Grand Canyon seemed too small for the budding world traveler inside him, so he has found time to travel the globe. After his growing and insightful years of world travel he returned to Flagstaff in Northern Arizona. He cut his teeth in the guiding and travel industry while working as an interpretive guide on the historic Grand Canyon Railway. Flagstaff is now
his home base for tour guiding to areas such as the Grand Canyon, Arizona, Utah, Native American lands around the Four Corners, Southwestern Colorado and beyond. When he's not guiding, he's likely to be found volunteering with kids in central Mexico or exploring any random area of the States.
Simone Kuzma - Tour Director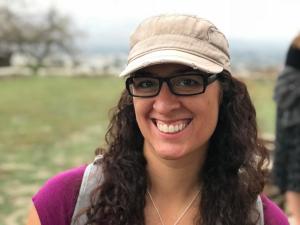 Hi there, I'm Simone! I'm a geologist, hiker, photographer, and a Certified Tour Guide for over 13 years. Southern Utah is my home, my heart and my favorite playground in the world!  
For me, guiding is all about my travelers - helping them experience and touch and feel a place in a way that resonates with them. Are you after nature? History? Geology? Astronomy? Or maybe you're just not sure yet but you're traveling to find out? I got you covered! You absolutely can have an amazing, personal travel experience in a new place - and it's my job to bring it to you!
Before becoming a tour guide and settling down back at home, I worked my way around the world - from wintering-over in Antarctica to teaching in Venezuela during the Chavez era to guiding tours in Cambodia, I have never shied away from adventure. When not guiding, you'll find me with my husband and our silly little cat, building our off-grid home ourselves in the high desert outside Escalante, Utah. 
Wynn Hall - Tour Director
Wynn was bom in Idaho and lived there until he was Jr. high school age. He then moved with his family to Utah and has been in Utah for 50+ years. He enjoys being outdoors and has been hiking, camping, fishing in the Wasatch mountains since he was old enough to walk. He has 7 children and has been married to his wife Joanne for 40 years. The whole family enjoys mtn biking, hiking, camping, skiing, Snowboarding, & fishing. He has been guiding for the past 4 years and is First Aid, CPR, and Wilderness First Responder certified. He enjoys people and likes nothing better than sharing the great outdoors with others. 
Wayne Parker - Tour Director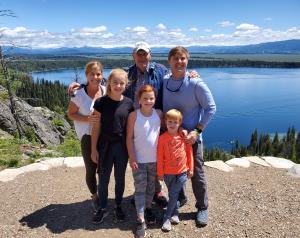 Wayne G. Parker has over 50 years of entrepreneurial and management experience. He served as the President of U-Haul Company/Minnesota, North and South Dakota, building U-Haul's Midwest territory. He then transferred to Phoenix as Vice President of U-Haul International, overseeing expansion into Canada. Subsequently, Wayne built three successful companies in both manufacturing and tourism. He started doing tours from Phoenix to Sedona, Grand Canyon, Monument Valley, Tucson, Tombstone, Prescott, Antelope Canyon, Bryce, Zion, Yellowstone, Yosemite, Grand Tetons, Glacier, Sawtooth Mountains, Oregon Coast, California Coast in 1986. He built his tour company, Open Road Tours from a small one-man tour business to a 40 person tour operation at which time he sold it to a larger tour operator in Sedona.
Today he is doing what he loves to do, share his love of the Western United States with travelers from all over the world by using his knowledge gained over the last 40 years in the travel industry. He actively hikes, travels, photographs, and shares history, geology, flora and fauna with tour groups at Southwest Adventure Tours.
Wayne is a graduate of the University of Minnesota with a degree in Marketing and Sales Administration. While at the University, Wayne was active in the music program and performed in both marching and jazz performance bands. A long time marathon runner, Wayne has completed 32 marathons and 2 ultra- marathons. His passions include encouraging others who are in training to run races and giving back to his community as a volunteer and current Board member of the Phoenix Philanthropists.
Larry Hansen - Tour Director
Larry has had a love affair with the outdoors from an early age. During his childhood, his family was always out hiking, camping and exploring Utah — from Logan Canyon in the North, to the Red Rocks of Southern Utah — leaving no stone unturned. To this day, he still loves every aspect of what Utah and the Southwest has to offer, and has a deep and profound love for the area. An avid cyclist, hiker and skier, Larry is always wondering what is over the next ridge, or around the next bend, and loves to take the extra step to find out.
Larry's professional life has been in professional Photography, as well as Marketing and Advertising. During his career, he worked closely with the tourism and travel industry, and had part in the campaign to bring the 2002 Winter Olympic Games to Utah and the creation of the logos for the speed events at Snowbasin. He is an accomplished photographer, and has been published worldwide — along with publishing many regional and statewide travel guides for Utah. That work allowed him to be the producer of business and marketing videos — including those done for Antelope Island and the Oregon Coast.
A self-proclaimed history buff, he is always looking for little known facts, about the area, Larry loves to make sure that everyone goes home with the best experience. When not guiding, he plays in a Rock and Roll cover band, loves to take rock hounding trips with his wife, and keep up a great garden in the summer.
Jeff Steele - Tour Director
I was born and raised in the State of Michigan where my parents instilled in me a love for the outdoors and all it had to offer.  I graduated for Lake Superior State University, with a Bachelors in Parks and Recreation Management, in 1993 and began a career as a Park Ranger for Utah State Parks.  My 24 year career, with Utah State Parks, took me from living in Moab, the home of Arches, Canyonlands National Parks and Dead Horse Point State Park, to living on Antelope Island, in the Great Salt Lake, to finally calling Vernal, which is home to Dinosaur National Monument, home.  I have been married for 25 years and am the proud parent of 3 kids.
 
I have a true love and passion for recreating and exploring in Utah's National Parks, National Monuments, State Parks and wild places with my family, friends and Southwest Adventure Tours guests.  Life is too short not to get out and enjoy these natural areas and all they have to offer.  So come out and let us open your eyes and mind to what the past, present and what future adventures hold for you.
Cliff Bandringa - Tour Director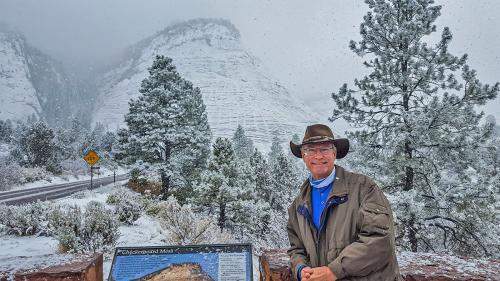 Since 1983, Cliff has been exploring the back roads and hiking trails of the great Southwest. With his wife Ilene, Cliff has written several virtual travel guides and video tours showcasing these areas based off their extensive knowledge of what they have found, experienced, and photographed. Cliff & Ilene started BackRoadsWest.com in 2005 and over the years have virtually introduced countless people to places around the Mojave Desert, Southern Utah, and along Route 66.
 
After being guided by professional guides on many trips in both the USA and Europe, during the pandemic of 2020, Cliff got the opportunity to become one of those "real" tour guides. He found out it wasn't too much of a jump to switch from being a "virtual" tour guide to a real one. Cliff also found out how much fun it is to share some of the iconic places to visit in the Southwest with other people personally.
 
From his work developing travel guides and videos, Cliff gained a lot of knowledge about the geology, history, and botany of the Southwest, mainly the Colorado Plateau and Mojave Desert. That knowledge goes along with any tour that Cliff is involved with.
Bill Stone - Tour Director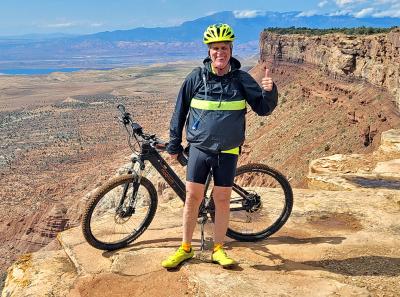 I discovered Zion National Park in the early '90s when I moved to southern Utah. After hiking Angels Landing and Zion Narrows, I knew my choice for moving to this area would change my life forever. Even with the pandemic of 2020, I was still blessed to be able to visit Zion over 80 times last year. It never gets old. Being able to see 8-point bucks, desert bighorn sheep, wild turkeys, and California condors on a daily basis is still a thrill.
I grew up in a small town in the Eastern Sierras. My father was a park ranger at the historic ghost town called Bodie. I've always been an outdoor enthusiast. Whether it's racing mountain bikes in Idaho against my grandsons or climbing Mount Whitney with my father and my grandfather at the age of 12. I love adventure and I love the Southwest. At this stage of my life, I love sharing my experiences and the Mighty-Five of Utah with like-minded people.